Withdrawal Tips That Can Save You Time!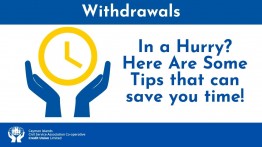 TIPS THAT CAN SAVE YOU TIME!
There are many ways in which you can access your funds without coming into a Credit Union Branch; here are some time-saving tips for withdrawals!
ATM - The Credit Union has one ATM located at our main branch in George Town, Grand Cayman. Our ATM is open 24 hours and offers various services, including withdrawals of up to $1,000 from your saving account.
Deduction - If you are employed with the Cayman Islands Government, utility companies or statutory authority, a percentage of your monthly salary can be automatically deducted. These funds can be allocated to pay your loan, deposit funds to your saving or share account, or transferred to another account within the Credit Union. When allocating funds to your account, be sure to place only what you intend on saving in your share account and the balance in your saving account, as saving accounts are accessible through our ATM.