POSTPONED - Investment Basics & Maximizing Return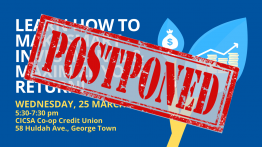 update - 17 mar 2020
In light of the existing COVID-19, Coronavirus situation, and in compliance with the Cayman Islands government's requirements to limit public and social gatherings, the Credit Union has postponed the financial education class previously scheduled for 25 March 2020. This is the workshop titled, Investment Basics & Maximizing Return. We will also notify directly those Members that had previously registered for this class. We will reschedule the workshop for a later date once it is safe to do so and will be sure to keep all Members informed of that new date.
ORIGINAL POST - 28 FEB 2020
Recently, we let Members and the public know about our upcoming financial education program including workshops/classes. We've been receiving great feedback to this announcement and as a result, we've scheduled two workshops in March to talk about the topics members have most requested so far.
The second workshop will be on Wednesday, 25 March from 5:30-7pm here at the Grand Cayman Credit Union branch on 58 Huldah Ave. The topic will be:
Investment Basics & Maximizing Return
For more information or to register for this class, please email marketing@cicsacu.com.ky