Annual General Meeting
Thank you to all the Members that attended the 44th CICSA Co-operative Credit Union Annual General Meeting this past Wednesday, 27 November 2019 at the Family Life Centre.
As promised, please see below more updates for you regarding:
The results of the resolutions up for vote
The answers to all of the questions submitted live at the AGM

The Results of the 44th AGM Resolutions
There were five resolutions that were up for vote at the 44th Annual General Meeting on 27 November 2019. Please click the button here to download those details.
---
AGM Live questions & Answers
The AGM live online Q&A feature with Slido.com was very popular. We received 45 total questions on a variety of topics. Three topics in particular, made up 58% of all questions. Those pertained to permanent shares, loans and the ATM.
We've compiled all the answers to these questions and they are now available here. Also, please see below a quick summary of the total number and type of questions we received.
---
Credit Rules REview Member Survey Results
During the AGM, the Board of Directors and CEO presented the results summary of the recent member survey which was conducted earlier in November. Please click the button below to view the summary report containing additional information about the background, context and next steps.
Download Survey Results Download Credit Rules Documents
---
Congratulations to the raffle winners!
The following lucky members present at the AGM were raffle winners!
$300 Pre-registration prize - Gladis Graham
$100 Share certificate - Ruth (Darlee) Bodden
$100 Share certificate - Diana Ramsay-Linton
$100 Cayman Airways voucher - Rollin Ebanks
$100 Cayman Airways voucher - Marlene Bonnick
$250 Share certificate - Ingrid Ebanks
$250 Share certificate - Marie Saldeba
$500 Share certificate - Judy Reid
$1,000 Share certificate - Frank Cornwall
Grand Prize, all expense paid trip to the CCCU Conference in the Dominican Republic - Allan Young

---
AGM PHoto book
Please click the image below to view the AGM photo album.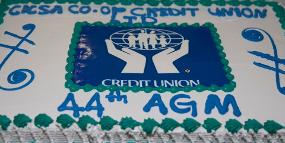 ---
AGM Documents
Download 2019 AGM notiCE Download AGM STanding ORders